Similarly, we have provided options for the purchase of reproductions of these
wonderful images in a variety of large formats and on the right, we show an
example of how these images can appear when framed.
Each of those reproductions is prepared with archival quality materials to ensure
many years of ongoing enjoyment.
To purchase, simply click on the appropriate "Add to Cart" button and you will
be taken through to our Shopping Cart secured through PayPal. Multiple
purchases will be consolidated by that feature and shipping and handling costs
to any destination in the world are accommodated by our flat-rate fee of
US$20 for every US$200 worth of purchases.
We are able to reproduce these images in a variety of sizes and naturally, should
you wish to order a Reproduction Print in another format or individual
Greeting Cards from this suite of images, we welcome your contact through
ThePeople@SpiritoftheAges.com.
In the meantime, enjoy perusing these wonderful images from Evelyn de Morgan.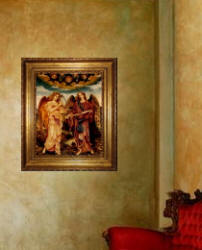 Every illustration tells a story
Above, we show a framed reproduction
of Evelyn de Morgan's "Gloria in Excelsis".