Carl Otto Czeschka (1878-1950) is among the artists associated with the Golden Age of Illustration, being both a prominent member of the Vienna Secession and a designer for the Wiener Werkstätte.
The Carl Otto Czeschka Collection at Spirit of the Ages includes art images from some of his seminal work. As a valuable reference resource, options are also provided for purchasing a range of gifts, including reproduction prints, posters and greeting cards.
Stylistically, Czeschka had similar influences to Gustav Klimt, but his work was more abstract. He worked on a variety of projects throughout his career in varied media, including woodcuts, stained glass commissions, theatrical designs, jewelry and furniture.
We invite you to take the time to peruse the wonderful artwork from Czeschka that is included in the Collection - to view images from any one of his suites below, simply 'click' on the hyperlinks embedded within the titles and the images.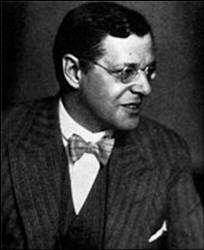 Above, we show a vintage photograph
of Carl Otto Czeschka