A Garland of Rose's (1928)
Illustrated by RenÚ Bull
On the left, we show a rare copy of A Garland of Rose's - an anthology from the collected poems of Rose Fyleman - with colour and monotone illustrations by RenÚ Bull.

This 1st Edition was published by Methuen & Co. Ltd (London) in 1928, with printing undertaken by William Brendon and Son Ltd (Plymouth) and this example retains the original gold-stamped blue cloth cover.




To the right, we show the

Title Page for this 1st Edition.
A Garland of Rose's published by Methuen & Co. Ltd (London) in 1928 is a collection of the poems of Rose Fyleman -
an English poet and writer known for her works focused on the theme of the fairy folk. Many of the works in the
anthology were drawn from her works that had previously been published in Punch.
Bull's illustrations for A Garland of Rose's are predominantly in monotone (although the frontispiece is in colour) and
are simply wonderful complements to the whimsical work of Fyleman.
Our Greeting Cards and Reproduction Prints
For connoisseurs of Bull's work, we have prepared sets of 16 Greeting Cards displaying each of his major monotone images for A Garland of Rose's (1928) and on the left, we show an example of how these Greeting Cards appear.

Code: RB GR MS(16)
Price: US$80.00
When presented on Greeting Cards, these images are prepared as tipped-on plates - in hommage to the hand-crafted
approach typical of prestige illustrated publications produced in the early decades of the 20th Century. Each card is
hand-finished and the images are presented on White card stock with an accompanying envelope. The rear of each
card carries information about RenÚ Bull, this wonderful suite and the profiled illustration - we have left the interior
of the cards blank so that you may write your own personal message.
Should you wish to order a Reproduction Print of one or more of these images, we have provided some options below.
Each of these large format prints is also accompanied by information about RenÚ Bull, this suite and the profiled
illustration.
To purchase, simply click on the appropriate "Add to Cart" button and you will be taken through to our Shopping Cart
secured through PayPal. Multiple purchases will be consolidated by that feature and shipping and handling costs to any
destination in the world are accommodated by our flat-rate fee of US$20 for every US$200 worth of purchases.
Of course, should you wish to discuss some customised options, we welcome your contact on any matter through
ThePeople@SpiritoftheAges.com.
In the meantime, enjoy perusing these wonderful images from RenÚ Bull.
The colour frontisipiece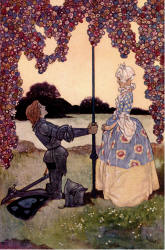 He will be a Prince again
Reproduction on 12x18" sheet
Code: RB GR C1 (12x18)
Price: US$60.00
The major monotone illustrations
Vision

She's sitting on a dragon-fly

The Apple-Tree

The Apple-Tree

Gossip

Young Puck has changed the dresses

Of the little twin Princesses

A Strange Pair

A Strange Pair

Reproduction on 12x18" sheet

Code: RB GR M1 (12x18)
Price: US$60.00

Reproduction on 12x18" sheet

Code: RB GR M2 (12x18)
Price: US$60.00

Reproduction on 12x18" sheet

Code: RB GR M3 (12x18)
Price: US$60.00

Reproduction on 12x18" sheet

Code: RB GR M4 (12x18)
Price: US$60.00

Invitation

A learnÚd toad shall teach you

A Fairy Went A-Marketing

She bought a little fish

The Goblin To The Fairy Queen

The Goblin to the Fairy Queen

The Fairy Flute

And none but he can play it

Reproduction on 12x18" sheet

Code: RB GR M5 (12x18)
Price: US$60.00

Reproduction on 12x18" sheet

Code: RB GR M6 (12x18)
Price: US$60.00

Reproduction on 12x18" sheet

Code: RB GR M7 (12x18)
Price: US$60.00

Reproduction on 12x18" sheet

Code: RB GR M8 (12x18)
Price: US$60.00

The Mermaid

The Mermaid

The Best Game The Fairies Play

The best game the fairies play

The Spring

A solemn little frog I spied

In Holland

In Holland

Reproduction on 12x18" sheet

Code: RB GR M9 (12x18)
Price: US$60.00

Reproduction on 12x18" sheet

Code: RB GR M10 (12x18)
Price: US$60.00

Reproduction on 12x18" sheet

Code: RB GR M11 (12x18)
Price: US$60.00

Reproduction on 12x18" sheet

Code: RB GR M12 (12x18)
Price: US$60.00

The Little Prince

I have a garden with pretty birds that sing

The Little Princess

Oh, what I shall give to the little princess

Cock-A-Doodle

Cock-a-doodle

Peacocks

Peacocks

Reproduction on 12x18" sheet

Code: RB GR M13 (12x18)
Price: US$60.00

Reproduction on 12x18" sheet

Code: RB GR M14 (12x18)
Price: US$60.00

Reproduction on 12x18" sheet

Code: RB GR M15 (12x18)
Price: US$60.00

Reproduction on 12x18" sheet

Code: RB GR M16 (12x18)
Price: US$60.00